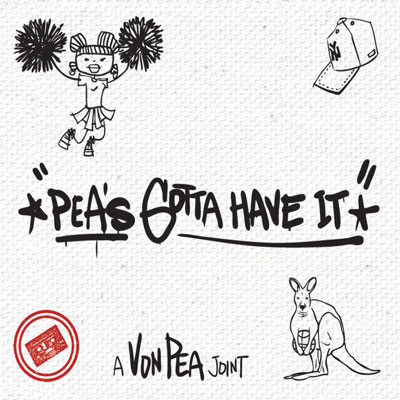 Von Pea, a producer, rapper, and member of the highly lauded group Tanya Morgan, is excited to announce the release his own solo album, Pea's Gotta Have It. The album, a concept project themed around Von Pea's high school days, will be released October 12th via Interdependent Media.
For Pea's Gotta Have It, Von Pea reminisces of his days spent in the classrooms and at the lunch tables at Boys & Girls High School in Bedford-Stuyvesant, Brooklyn. "My solo album is basically the album I always wanted to make in high school," explains Von, who was inspired to make the album after discovering a long-forgotten journal. "It's a concept album based around high school, around what I thought my album would sound like when I was 17," explains Von. "In a way, it's a goal I'm achieving late. It's music inspired by my coming of age in Brooklyn.".
In Pea's Got To Have It, Von exhibits his classic sense of humor and wit by combining not only comical subject matter with more serious aspects but also with the genius subtleties and inside jokes that Tanya Morgan fans have come to expect. Von's engaging rite-of-passage narrations include topics such as hollering at girls, suffering through detention, upholding music and fashion above real-life concerns, scheming on how to avoid bullies, or taking your ill-advised friends' advice, to name a few. Von took full advantage of the liberties of creating his own album that were afforded to him by cleverly weaving parts of his past with his present day so it's not accurate to call his album a period piece. "A lot of my material switches back between my 16 year-old self and who I am today as a 28 year old and although I'm talking about my own experiences as a male teenager coming of age in Brooklyn, New York, this album really speaks to anyone who's ever gone to high school," explains Von.
Despite being the primary producer for his group Tanya Morgan, Von Pea produced only three of the tracks for his solo album. "I think it's kind of cool; it happened naturally," Von says about not handling most of his own production. Similarly, Von's surplus of guests on the album mesh together seamlessly despite their varying styles, largely due to the natural chemistry Von has with everyone on the album. "The best music comes from artists that have chemistry," says Von. "So the vocal features are all frequent collaborators."
Although the rapper has previously released solo side projects, Pea's Gotta Have It marks his first full-fledged effort at a solo album, which took three years to finalize while also working on other music. "In the past I've put out projects just for fun and for free, not even trying to get buzz," says Von, affirming, "This is my first solo album with original music." As Tanya Morgan's primary producer, and main contributor to the group's musical sound, fans can expect a similar direction on his solo album. "My album probably sounds like Tanya Morgan, just with one person," Von jokingly states. "But people like Tanya Morgan, so that's fine with me."